Career Collective post: Once a month, a group of career professionals blog on a subject topical and timely for a job seeker. We'll post our thoughts on our own blog and link to the post of our colleagues on the same topic.
This month's topic: Mid-year job search checkup
Responses from others contributors linked at the end. Follow the hashtag #Career Collective on Twitter.
You've set up metrics to track resume send-out-versus-response ratios. You're so engaged with your network, you know who you spoke with, when, the topic of conversation and have scheduled a date and time for the next contact. You set up social media profiles across the web making you Google-able. You online presence is pristine. You engaged a career professional to make sure your resume and other career documents properly positioned you. On paper and online, you appear to be a slam-dunk candidate for many positions in your industry. You interview well too. But wait … you're still unemployed or you still haven't been able to land a new position. What gives?
First, if you're not in the enviable position, online and on paper, as outlined above, be sure to read all the Career Collective contributions this month. You're sure to pick up helpful tips and tricks to bring your career marketing collateral and job search strategy up to snuff.
Now, if you've got all this going for you, why no job offers? When was the last time you sat down and had an honest look at how you present yourself to the world? I'm not talking about external appearances. I'm talking attitude, outlook and perspective. If you're doing everything right in a job search and your persona contradicts the message conveyed in your introductory documents, you're going to have a difficult search. People hire people with positive attitudes and energy. Be sure your habits support that positive projection
Find a quiet spot (like this one) and take a long, hard, honest look at what needs to change.
Do you hang with a crowd that's usually complaining about something?
Assess how external forces affect your internal sentences. Picking, poking and complaining about everything under the sun might be all in fun when you're together with your friends. But, sometimes, that negative tone creeps into everyday conversations and starts to jade your entire perception of the world. Does that mean you have to dump your friends to get a job?
Of course not, but at least be aware of any effect "negative" jokes and kidding have on your personal view of life. Your assessment might cause you to initiate a change in how the group interacts (not an easy feat). It might be a good idea to change the group dynamic and add some new people to the mix at your next event. Or, you might decide to reduce the group events for a while and keep in touch with individuals.
Has your job search support group turned into a commiseration session?
When you first joined the group, you left meetings energized, full of ideas and suggestions to propel your search forward. As time wore on, you began to leave meetings more discouraged than when you went in. Your commitment to the people in the group is still there, but the benefits evaporated long ago.
Apply some of the same ideas listed above to change group dynamics without eliminating the group completely. But don't be afraid to admit it's time to move on either. Your loyalty has to be to you and your positive mental state.
Are you parked on the sofa watching the six-o-clock news every night?
If you're told (or tell yourself) something often enough, it becomes your reality. If you spend an hour each evening listening to how horrible things are in the world right now, chances are the message will eventually seep into your perception.
A client recently told me, she knew she needed to look for a job, but she watched the news every night. She heard how difficult the job market is right now and adopted the perception that to do anything would be a waste of effort. My advice to her: Turn off your TV. (Apologies to the news industry.)
In lieu of such a drastic measure, at least keep things in perspective. You don't have to find a job for every single unemployed individual in the United States; you only have to find one, for you. If watching the news every night is stressing you out, there are plenty of ways to stay current with world events, on your terms. Find what works for you and protect your positive outlook. Focus on what you can do to improve on your personal news; not on things you cannot control.
Is your family supportive of your search and your career?
Does the question, "So. Do you have a job YET?" pop up daily in family conversations? Does it feel like an inquisition at family gatherings as second-cousins-three-times-removed (what does that mean??) start grilling you about and assessing your job search efforts? Do you get that "sure you are dear" look whenever you share career goals and aspirations?
If family interactions leave you curled in a fetal position under your desk while you're trying to conduct a job search, it's up to you to take action. They mean well, but it might be time for a conversation with those closest to you. Ask for their support and tell them what they can do help, and what hurts.
Develop a thick skin for those occasional (unintentional) barbs from extended family and friends. Everyone has an opinion. That doesn't mean you have to absorb each and every one. As in the examples before, take charge of the dynamic or make some difficult decision about interactions and frequency.
Does an (involuntary) frown creep across your face when you talk about past positions and people?
No matter how many times you tell yourself, everything's fine, if you don't have a "poker face" when talking about what happened or is happening to encourage you into a job search, you're going to lose in the job search game.
Find an outlet or method to handle the (understandable) anger and negative energy so it doesn't make unwanted appearances during career conversations. If you have to, engage friends or sit in front of a mirror to put a positive perspective (spin) on less than perfect circumstances. You don't want the look on your face and your actions to drown out the value you're trying to convey.
What are you saying to yourself?
What kind of tapes play in your head all day long? I'm not talking about your iPod play list. Are you saying positive things to you about you or is your dialogue peppered with, "You idiot. I can't believe you were so stupid. I'll never find a job. It's not my fault, the world is against me. I never do anything right. I'm always late." – enough! You get the idea. You spend more time with yourself than you do with anyone else on the planet. Be encouraging in what you say to yourself. (For more on this topic: "What are YOU saying about you?"and "…And then shut up")
Time and time again I've read comments from hiring authorities indicating candidate attitudes play a huge role in hiring decisions. Specific skills can be trained. Attitude determines the success of that training. As I said, people hire positive people. It's in a job seekers best interest to develop a positive energy in addition to executing a well-strategized search. Remember, the unspoken sometimes speaks louder than the words being said. Rediscover your joie de vivre and see if that isn't the mid-year tweak your job search needed.
Here's what my colleagues have to say: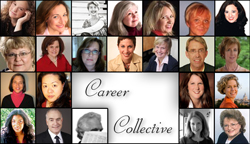 4 Summer Strategies to Step Up Your Job Search, @DebraWheatman
Putting Your Job Search Up On The Rack For Inspection, @dawnrasmussen
Mid-Year Job Search Checkup: Are you wasting your time? @GayleHoward
What is your unique value proposition? @keppie_careers
It is Time for Your Check-up Ms/Mr Jobseeker, @careersherpa
Mid-Year Career Checkup: Are You "On Your Game?" @KatCareerGal
How to Perform a Mid-Year Job Search Checkup, @heatherhuhman
Reposition your job search for success, @LaurieBerenson
Mid-Year Job Search Checkup: What's working and What's not? @erinkennedycprw
Mid-Year Job Search Check-Up: Getting Un-Stuck, @JobHuntOrg
Mid-Year Check Up: The Full 360, @WalterAkana
5 Tips for Fighting Summer Job Search Blues, @KCCareerCoach
Are you positive about your job search? @DawnBugni
Where Are The Jobs? @MartinBuckland, @EliteResumes
Mid-Year Job-Search Checkup: Get Your Juices Flowing, @ValueIntoWords
When Was Your Last Career & Job Search Check Up? @expatcoachmegan
Is Summer A Job Search Momentum Killer? @TimsStrategy, #CareerCollective
Is It Time for Your Resume Checkup? @barbarasafani, #CareerCollective

Link to this page

Link to this page
Copy the code below to your web site.