Ok. I admit it. I like to play Chuzzle. After a long day of ferreting out client information and formulating presentation strategies, I like mindless, no-thinking-involved entertainment. Chuzzle provides it.
Briefly, you match three (or more) of the same color fuzz balls by moving the columns up and down or left and right. They giggle, explode and accumulate points. New fuzz balls drop into place until you've exploded enough to move to the next level. I'm not sure if it's the way the eyes move to follow the cursor as you play or if it's the way they get all excited when they come close to another Chuzzle of the same color or if it's anthropomorphism of my own dust bunny collection (five dogs, three indoor cats … I KNOW dust bunnies.), but I like to play.
Levels one and two lull you into a false sense of security – easy, no-thinking game. Suddenly, on the third level, a lock soars in from out of nowhere preventing any movement of the row. As the levels increase, so does the frequency of the locks. Freeing the poor, imprisoned Chuzzle requires matching it in groups of three (same as the unlocked one), but is more difficult since you can't move the row.
When I first started playing and the locks came swooping in, I put all my energy into freeing that one Chuzzle, ignoring the rest of board. That led to more locks and eventually, the dreaded "no more moves" message. I never advanced past single digit levels. Ack. One night, I tried a different strategy. I kept focus on the entire board, paying attention to the lock, but not fixating on it. Know what? When I changed my focus to the big picture, the game changed. Moving a row on the other side of the board frequently exploded the lock with little effort. Wow. What a great lesson for job seekers …  (Stop applauding. You know I always get to a job search point eventually.)
Frequently I see job seekers throwing up their own roadblocks. They've done phenomenal things for employers or the community yet they fixate on one (limiting) facet of their career history or the job search market and ignore the big picture.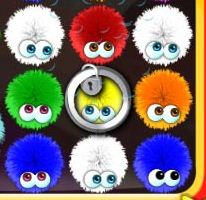 * I'm too old.
* I don't have a degree.
* I can't job search in the summer; interns take all the jobs. (Heard that one last week!!)
* I can't job search during the holidays; no one hires then.
* I've been with the same company for 20 years. That's bad, right?
* I've had a string of short-term positions. That's not good, right?
* I worked for my family's business. (Work is work and skills are skills.)
* I have a gap in my work history.
* I've been a stay-at-home mom. I'm not marketable. (PUH-lease!!)
And on and on and on …
A few years ago, I worked with a man, who, partnered with his brother, started a manufacturing firm in the family garage. I spent 90+ minutes listening to his tale of taking a two-person, home-based operation and growing it into a multimillion dollar, multilocation business employing more than 100 people. He told of innovations and patents, exclusive product development and high profit margins. "WOW!" kept escaping from my lips …
For a multitude of reasons, he chose to leave the business and seek employment elsewhere. As we were wrapping up, he asked, almost timidly, "So. Am I marketable?" My jaw dropped. "Marketable??? Goodness. You've done such impressive things in your career, I'm ready to hire you and I don't manufacture anything!" was my reply. He countered with, "Ya but, I only have a high school education. I never got a degree." Ker-chung <–Sound of a Chuzzle lock flying in from nowhere. Rather than seeing the millions of dollars he earned, the hundreds of people he employed and the accomplishments he'd had during his career, he saw one limiting factor – his lack of a four-year degree.
That's not to say his concern wasn't valid. Lack of a degree can be an issue during a search, but putting time, energy and worry into addressing one short-comings and not focusing on value is a sure way to limit or lock down movement during a search. Rather than lament the lack, I convinced him to diminish it. "I may not have a bachelor's degree from a formal institution, but as you can see by my sales figures, profit margins, patents and overall business success, I earned a doctorate-level education from the 'School of Hard Knocks.' I generated profit from my parent's garage. Imagine what I can do for you."  Boom! <– The sound of the Chuzzle lock exploding. He got it.
If job seekers make a lack of "whatever" an issue, they've erected their own roadblock; slammed on their own locks. Being aware of, but not focused on "whatever" brings a much more effective big-picture approach, frequently exploding the locks and eliminating the roadblock all together … with little effort.
Now, try and get to level 13 on Chuzzle. I have. (TMI?)

Link to this page

Link to this page
Copy the code below to your web site.