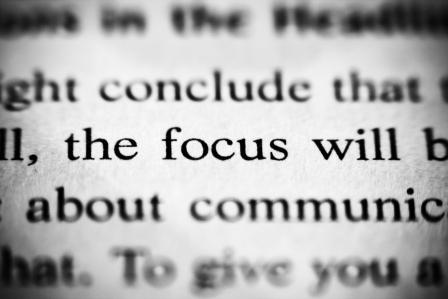 A resume client recently asked for some guidance in making a decision. He had several career paths he could travel. As with many job seekers I meet, he wanted to carry all his "luggage" down each path; placing equal weight on his entire skills set for each opportunity. I explained how an "I can do anything and everything" approach would not work in this market.
I told him his message had to be tailored to speak to a potential employer's specific needs and his resume needed to tell the employer what they wanted to know about him; not what he wanted to tell them. This is the basic premise of sales and marketing. Find the buyer's pain and offer solutions to suit their needs. He expressed concern that too much focus would mean he would be limiting his opportunities. Quite the contrary. I used the following example from my own life to help him understand:
"Focus doesn't mean you can only have one direction. It means you have to have an understanding of the audience's needs. For example, for more than seven years, I ran both a pet sitting and resume service. (Five of those years were spent also working 30-40 hrs/wk as an office manager in a veterinary hospital too.) I didn't open a conversation regarding resume services extolling my pet sitting expertise (and vice versa). I told my audience what they wanted to know so they could make an informed decision based on the facts they sought. As the relationship grew I would share the other things I did. During my dual-business years, I wrote resumes for several pet sit clients. When they called about pet sitting, their focus was planning a trip out of town and reliable care for their animals. My focus had to match theirs to "sell" my skill set to them. When they called about my resume writing services, we might mention the fur-children, but quickly moved to the task at hand – their careers. That's what I mean by focus."
You can be as multifaceted as you want to be in your career and your life. But remember, telling everyone everything all at once overwhelms. Focus your message and watch understanding (and results) soar.

Link to this page

Link to this page
Copy the code below to your web site.