Career Collective post: Once a month, a group of career professionals blog on a subject topical and timely for a job seeker. We'll post our thoughts on our own blog and link to the post of our colleagues on the same topic.
This month's topic: Job-hunting "Rules" to Break/ Outdated Job-Search Beliefs
Responses from others contributors linked at the end. Follow the hashtag #CareerCollective on Twitter.
Back "in the day" I used to don my clamp-on roller skates and do laps in the basement. One of my favorite skating songs was by the Monkees "Shades of Gray." Funny. Now, YEARS later, the message from that song is the core of the most frequent response I give job seekers when asked a question about conducting a job search:
IT DEPENDS.
How do I contact this company?
How do I find out the interviewers name?
Should I drop off a resume?
Should I call? Should I email?
Is faxing OK?
My friend said this __________ (fill-in-the-blank) worked for them. Will it work for me?
What do I say in an interview?
What do I wear?
What does HR think about ____ ?
IT DEPENDS.
Too often I find job seekers thinking there's only one right way to conduct a search. They scour the Internet looking for the "THE" answer – a black or white, yes or no, definitive method to use when managing their careers. They're convinced there's a magic bullet. They're sure, once found, that one technique will end the search and land their dream job with little effort. They glom on to what worked for their friend or acquaintance. They read an article about how sandwich boards worked for one job seeker. They find another article about how mailing an empty coffee cup or one shoe with a promise to fill the cup or deliver the other shoe at interview worked for another. They talk to Great-Aunt Tilly, their neighbor, the stranger in line at the grocery store. They try anything and everything. They ask questions about what HR thinks as if HR is some huge entity in the sky with a single mind.
They do all this without any thought to the specific position or industry, their own personal comfort level or even the individual preferences of the hiring authority behind the desk. Too often, I find job seekers willing to do whatever they're told, until they're told to sit down, think about the specific situation and formulate a strategy that not only fits the industry, the position and the players, but also fits them.
The best thing you can do for your job search is stop looking for ONE answer. Cookie cutter approaches don't work in job search. What excites one hiring authority could offend another. What works in one industry may have you ostracized in another. What worked for your friend may not be the right fit for you.
As Davy Jones and Peter Tork sing in "Shades of Gray":
"Today there is no day or night. Today there is no dark or light Today there is no black or white … only shades of gray."
Dump the myth of a one-size-fits-all job search. (It's not true in clothing and it's not true in job search either.)  Customize your search to fit the specific needs of your audience. Differentiate yourself. Make the reader feel special. Speak to their pain; their needs. Apply an "It depends/Shades of Gray" approach to your search and start gaining traction. Who wants cookie cutter, when you can have hand-dropped?
(And yes. I still have my "Headquarters" album.)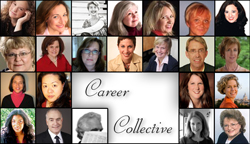 Here's what my colleagues have to say:
Juice Up Your Job Search, @debrawheatman
It's not your age, it's old thinking, @GayleHoward
Want a Job? Ignore these outdated job search beliefs @erinkennedycprw
Job Search Then and Now, @MartinBuckland @EliteResumes
Break the Rules or Change the Game? @WalterAkana
The New: From The Employer's-Eye View, @ResumeService
Job Search: Breakable Rules and Outdated Beliefs, @KatCareerGal
Job Hunting Rules to Break (Or Why and How to Crowd Your Shadow), @chandlee @StartWire,
Shades of Gray, @DawnBugni
3 Rules That Are Worth Your Push-Back, @WorkWithIllness
Your Photo on LinkedIn – Breaking a Cardinal Job Search Rule? @KCCareerCoach
How to find a job: stop competing and start excelling, @Keppie_Careers
Be You-Nique: Resume Writing Rules to Break, @ValueIntoWords
Modernizing Your Job Search, @LaurieBerenson
Don't Get Caught With an Old School Resume, @barbarasafani
How Breaking the Rules Will Help You in Your Job Search, @expatcoachmegan
Beat the Job-Search-Is-a-Numbers-Game Myth, @JobHuntOrg
25 Habits to break if you want a job, @CareerSherpa

Link to this page

Link to this page
Copy the code below to your web site.