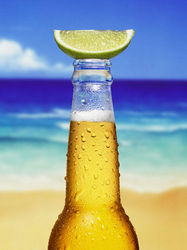 My husband and I enjoy Mexican food. For those that partake of adult beverages, you know Mexican food goes wonderfully with Mexican beer – Dos Equis is my favorite; Corona my husband's. The standard way to serve a Corona is with a slice of lime. "Everyone" drinks it that way. That is everyone but my hubs. He likes his Corona with lemon, and orders it that way. Do you know how many times (out of the last 10) the server brought his beer with lemon, as ordered? ZERO. It's become a source of entertainment for us.
Server: Can I get you something to drink?
DH: Yes. I'd like a Corona with lemon please. That's lemon. Not lime. Lemon. I know it's unusual, but I like it with lemon.
Server: OK. I'll bring that right out.
Moments pass. The Corona arrives … with a lime.

DH: I ordered this with lemon.
Server: Lemon? Oh yeah. That's right. Let me go get you some lemon.
DH: Never mind. It's already got the lime in it. Just make sure the next has a lemon.
Server: Absolutely. Sorry about that.

IF we order a second beer, we go through the same process … with about 50% delivery accuracy. Yesterday, after bringing his beer with lime our server remarked, "I get the yellow and the green ones confused." (She was young and cute enough to get away with that excuse. LOL.) After we pointed out the difference, she went back and got a bowl of both fruits and let him pick the right one.
When I work with clients I coach them on how important it is to have focus during a search. I ask them to forward two to three job postings to help with that focus and ensure "we're selling what the buyer is buying." I've gotten anywhere from none – "Oh, I didn't think you really needed that." –  to twelve, heading down four different career paths – "Oh, I thought you'd want to know everything." I'm very direct when I request this information, yet it seems to fall on deaf ears (much like a request for lemon, not lime.)
"Send two or three posting indicative of your target. More is not better in this instance. It is important to have laser-sharp focus for a successful search. Don't send a lot of posting heading down different career paths. We can use them if we're going to do different versions, but to start; we've got to be tight in our approach. If you send a bunch of stuff and expect me to extrapolate your career direction, I'll send you an hourly invoice for the time it takes to read everything."
(That last sentence is always said with a smile, kidding and in a kind way. I want them to understand how important it is to be focused in their approach and sometimes bringing their wallet into the picture is what finally grabs attention. As you can read, even that doesn't' always work.)
When I recruited, I worked in the lighting industry. I recruited design engineers, sales people and engineering managers. These were not entry-level positions. The client was adamant about the number of year's experience, in the lighting industry, they wanted for these important, sometimes high-profile positions. When I wrote the ads I put in all caps, bold:
"XX YEARS' EXPERIENCE IN THE LIGHTING INDUSTRY A MUST. CANDIDATES NOT MEETING THESE CRITERIA WILL NOT BE CONSIDERED. NO EXCEPTIONS."
After I posted the ads, I had to plow through 300+ emails to find the two or three people who actually had the qualifications my client demanded. The rest of the "non-direction-followers" either went into the black hole of my database or fell victim to my aggressive delete button. My boss and I used to kid that people thought "lighting experience" meant they could flip a light switch.
(For those recruiters reading this and rolling their eyes about the "post and hope" approach to recruiting, save your breath … this is why I no longer recruit. 🙂 I now know why this doesn't work – on either side of the search.)
So what do beer with lemons, job posting and the lighting industry have to do with a job search? Imagine you're the hiring authority on the receiving end of career documents. You take the time to carefully outline requirements. You don't pull any punches on what's required to be considered for the position. You "should" be receiving only "qualified" responses to the ads. Instead, your inbox is full of documents from people who "know" they can do the job, but don't take the time to demonstrate it. They flop job descriptions on a sheet of paper and expect the reader to extrapolate skills and how they fit into the organization. They cloud pertinent skills with lots of fluff adjectives and share every shred of detail about their career for the past 25 years in hopes something will grab the reader's attention. Guess what? The reader's eyes are glazed over as their finger hits the delete button. (The first pass read though of a stack of documents is for elimination, not inclusion.)
Now imagine you're that same hiring authority receiving a focused document demonstrating the skills required for the position, succinctly outlining how the sender can help ease the company's pain. Your heart skips a beat. FINALLY, someone listened. They heard what the company needed and took the time to deliver what was requested. The person may not be a slam-dunk for every single qualification listed, but they took the time to demonstrate they met 90%-95% of the requirements and even indicated how they could quickly be up to speed on the missing qualifications. Do you think that person will at least get a phone call? Most likely yes. (Not always. Sometimes the clutter of unqualified applicants causes qualified applicants to slip through the cracks …)
Evidently listening, comprehending and delivering what was requested is a dying art. Take a moment to demonstrate your ability to listen and you've differentiated yourself from the rest of the "spray and pray" job seekers out there.
If my darling husband ever gets a lemon with his Corona, you'll hear us cheering from wherever in the world you are. And that server will be rewarded. Sometimes, it truly IS the little things that make the biggest difference.

Link to this page

Link to this page
Copy the code below to your web site.