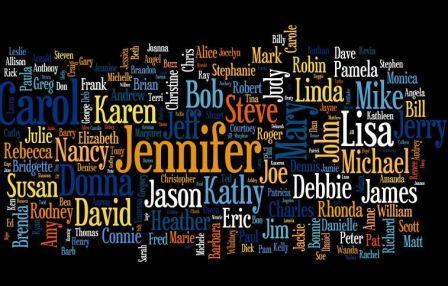 Recently a job seeker shared this story with me:
She'd successfully completed a telephone interview and did the "proper thing" sending a thank you email after the phone interview. (BRAVO!!)  A few days later, she checked her email and found not only did the email bounce back as undeliverable; the message about it bouncing went to spam. (Horrors). She called the company and found out the person with whom she interviewed spelled her name Alyson (with a "y"), not Alison, with an "i", as she had "assumed."  The story turned out well. She corrected the spelling and resent the thank you. Alyson responded with a thank you of her own. (See how that works? … but that's a soapbox for another day.)
This was not a client, so I took a moment to give her a tip about names I share with my own clients. Be sure to get the interviewer's name and the correct spelling of it – gather business cards or come right out and ask if you have to, but get it right. You "should" have a notepad with you during the interview, so take a moment to focus on your interviewer and get their name. (Nothing is more melodious than the sound of one's own name.)
While name gathering, take the time to get the correct spelling. Never, ever assume just because it's a common name, it's spelled the way you think. (Alyson/Alison/Allison). There's a caveat here; you don't want to come across as someone without a clue if the name is common.
I hear you: "OK, Dawn. So how do you THAT?" Don't come out and ask, "How do you spell Allison?" (See, there's a third spelling ….) Say something like is that Alyson a "y" or an "i"? Or is that with one or two ll's? That'll trigger the person to spell it for you. You come across as intelligent enough to know there is more than one way to spell a name and you're thoughtful enough to confirm how this person does it. (And look at the message it sends. You're considering options, presenting solutions, solving problems and you're not even on the payroll … yet!)
A few more examples:
Is Brown, with or without an "e"? (Browne)
Is it Greene, with an "e"? (Green)
Is that Tom with or without the "h"? I've known people who spell it both ways.
Carol? Do you spell it with or without the "e" at the end? (Carole)
Scott? I know this is crazy, but I know someone who spells Scot with one "t". Are you a one or a two "t" Scott?
See. There are a number of different ways to ask for correct spelling without coming out and saying, "How do you spell Brown?" which, can leave the interviewer thinking, "Duh."
The positive of a well-written thank-you letter (or cover letter) can be negated by leaving the "e" off Carole or the "h" out of Thom. Or an email can end up bouncing back as undeliverable and all that effort and positive after the fact marketing is for naught. Never assume the spelling of anyone's name. Names are important, and spelling them correctly equally so!!
(Melissa, this one's for you. Thanks!!)

Link to this page

Link to this page
Copy the code below to your web site.