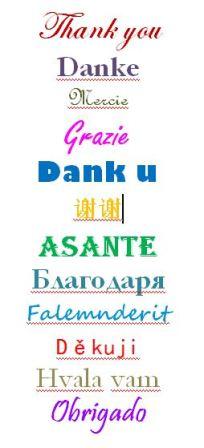 What do the following acts have in common?
Hand-crocheted baby blankets as congratulations for new parents.
Sent information interviewing and interview prep handouts, at no charge, to complete strangers.
Took pictures, made reprints, burned CDs or created movies and forwarded to friends and family after parties, showers and gatherings.
Emailed federal resume writer referral information to callers.
Emailed pet sitting information – 17 forms and contracts, along with website links and book titles – to several individuals wanting to start their own business. (I ran a successful pet sitting business for seven years.)
Gave birthday and Christmas gifts to friends and family.
Introduced people who could benefit from knowing each.
Forwarded links and articles of interest to help with or enhance a specific piece of business or personal life.
Did minor edits and revisions to documents at no charge for clients, long after project completion.
Do you give up? Here it is: I've done all of these things for people at one time or another in my life and the recipients never took the time to express thanks or even acknowledge receipt. No. This is not a diatribe on the state of society today, although it could be … but I digress. And no, this doesn't mean no one ever says thanks either.
I didn't do any of those things expecting a thank you. (OK, maybe a little.) But, I also understand the best intentions can get way laid in the busy-ness of life. I'll continue to help people, and do and create for them with or without a thank you. The joy for me comes in the doing; not in the thanks.
Fine. I won't lie. Hearing thank you is nice.
This leads me to my point. With the scarcity of thank yous being handed out today, imagine the impact you'll have by taking a moment to utter those two powerful words – in a thank you letter after a job interview, in an email or a hand-written note when someone in your network gives you a referral, verbally and with a smile when a stranger holds the door for you. (I sometimes throw in a curtsy …Yes. Yes I do.)
And no, I'm not talking insincere, self-serving, useless platitudes. I mean take a moment and truly appreciate the fact that another human being stepped outside themselves for a moment to do something nice for you and recognize it. You'll be remembered. Chances are they'll do it again. And you'll feel good for making someone else feel good, so you're likely to pass it along … and pretty soon, we'll be holding hands and singing Kumbaya together.
Wait … I got a little carried away. Seriously though, a big part of a job search is about differentiating yourself from the rest of the candidate pool. One easy way to differentiate is with two simple words –THANK YOU.
A while back, I read an article stating only 20% of job seekers ever send a thank you letter after an interview. (Of course, I can't find it to cite now.) Quintcareers.com says 5% and eHow.com says 10% – regardless, it's a small percentage. In the article I read, it also said, of that 20%, 80% received the job offer because of the candidate took the time to send a thank you letter.
Anecdotally, a client told me, early in her career, she was offered a position because of a thank you. The decision was between to her and another candidate. Her after-the-interview thank you note arrived, it tipped the scales and she got the job. Powerful stuff, that thank you!
Oh, and one more thing, if you're the nice person receiving a thank you, be gracious in receiving it. It wasn't "nothing". Say "you're welcome" and if you want, tell the person how good it felt to be able to help.
Lest I don't practice what I preach, thank YOU for spending a moment of your day with me.
For more of my thoughts on the power of thank you, you can read this post too.

Link to this page

Link to this page
Copy the code below to your web site.