Career Collective post: Once a month, a group of career professionals blog on a subject topical and timely for a job seeker. We'll post our thoughts on our own blog and link to the post of our colleagues on the same topic.
This month's topic: What do you do when you're really, really, really discouraged about your unsuccessful job search? How do you overcome the negative aspects of job search? Responses from others contributors linked at the end. Follow the hashtag #CareerCollective on Twitter.
Discouraged is a difficult place to live. We all visit occasionally, but wallowing in a cesspool of negativity doesn't solve anything. And yes. I realize that leaving "discouraged" is a lot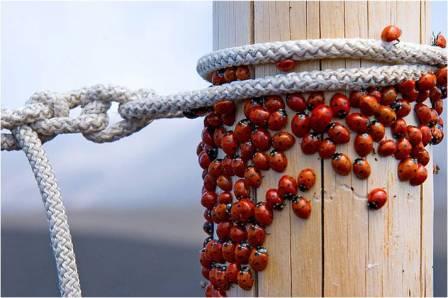 easier said than done. This in no way is meant to diminish personal circumstance, but I do know it's much more difficult to sell your skill set when you've lost confidence in you and it's difficult to have confidence in you when you can't sell your skill set. Add to that, it's not easy to network when your confidence level doesn't register at all. It's a vicious cycle. And only you can break out of it. So how do you do it? I'm not 100% sure either, but I'll tell you what works for me.
As I've said in tweets and past posts, attitude plays an important role in a job search and career management. Don't get me wrong. I'll be the first one to endorse a "pity-party", but you can't carry that woe-is-me mentality everywhere you go. Acknowledge the pain, for a moment, but eventually, perspective has to change. In addition to making internal adjustments, be sure to engage your network to support the changes. Accountability and camaraderie are important on any journey.
For a long time on Twitter, I started the day with a daily gratitude. (#dailygratitude) No matter how I woke up feeling, I sat and thought about something for which I was grateful. One morning, it was the vacuum cleaner and its ability to tame dust bunnies. Now how can I have a bad day when I start it out with the word "bunnies"? (See, it even made you smile just then.) One smile leads to another and eventually I'll forget what made me grumpy. Or in relaxing for a moment find the remedy for the point of consternation. (Hmmm. Might be time to revive that practice.) Even if you don't tweet your gratitude for things, big and small, at least take a moment to find a flash of wonderful in the midst of the insanity. I've also found, when you notice one good thing, two or three other good things show up, eager for attention too. Before you know it, you'll find a respite from despair and perhaps stumble on the motivation needed to move out of discouraged. It's not easy being crabby with a smile on the outside. It eventually seeps inside.
This past month, I've been walking most mornings with my neighbor Brenda. We walk a loop through an open field, near the Black River and up and down the dirt road. We go for about a half-hour and Brenda sets a heck of a pace. As pleasant and bucolic this setting is, some days, we don't feel like walking. We usually go anyway (yea us!) but change our route a bit. We'll go in the opposite direction, add a new landmark or take a different path home. One morning, after changing the direction of our walk, we both remarked it seemed much easier coming at it from a different direction. And so it goes with a job search or career management. If the approach you're using is daunting, then change it. There is more than one means to an end. Explore them until you find what works for you.
What doesn't work is curling into a fetal position wondering why me? Believe me. I've been there. Even I couldn't stand being around me for very long. I had to make changes. It wasn't easy. And I didn't make all the required changes all at once. I did little thing like changing my internal sentences, (would I talk to my best friend the way I talk to me???). That changed my perspective. A new perspective attracted different opportunities and so it goes. Look long enough, you'll find good and bad in most everything. Small changes lead to big things and one foot in front of the other will take you anywhere. It's OK to visit discouraged. With a dependable network and an escape plan, you won't hang out too long. It's up to you.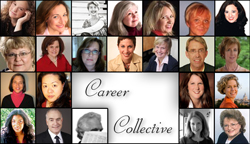 Here's what my colleagues have to say:
Walter Akana @walterakana Light at the End of the Tunnel
Jacqui Barrett-Poindexter @ValueIntoWords Restoring Your Joy in Job Search
Laurie Berenson @LaurieBerenson 3 Ways to Keep Your Glass Half Full
Chandlee Bryan @chandlee Strategy for Getting "Unstuck" and Feeling Better. Watch Lemonade
Martin Buckland @MartinBuckland @EliteResumes Job Search Made Positive
Megan Fitzgerald @expatcoachmegan  Dealing With Job Search Stress: Getting to the Source of the Problem
Katharine Hansen, PhD @KatCareerGal Job-Hunting in a Weak Job Market: 5 Strategies for Staying Upbeat (and Improving Your Chances of Success)
G L Hoffman @GLHoffman How to Overcome the Negativity of a Job Search
Gayle Howard @GayleHoward Job Search: When it all turns sour
Heather Huhman @heatherhuhman 10 Ways to Turn Your Job Search Frown Upside-Down
Rosalind Joffe @WorkWithIllness Finding Opportunity in Quicksand
Susan Joyce @jobhuntorg Just SO VERY Discouraged…
Hannah Morgan @careersherpa Mind Over Matter: Moving Your Stalled Search Forward
Erin Kennedy @ErinKennedyCPRW Dancing in the Rain–Kicking the Job Search Blues
Heather Mundell @heathermundell Help for the Job Search Blues
Meg Montford @KCCareerCoach You Can Beat the Job Search Blues: 5 + 3 Tips to Get Re-energized
Barbara Safani @barbarasafani Making Job Search Fun (Yeah, That's Right!)
Miriam Salpeter @Keppie_Careers What to do when you are discouraged with your job search
Rosa Vargas @resumeservice Don't Sweat The Job Search

Link to this page

Link to this page
Copy the code below to your web site.