I went to my computer early last Monday morning (12-20) around 2:30 a.m. I live with six dogs and an "old bladder" so middle of the night computer visits are norm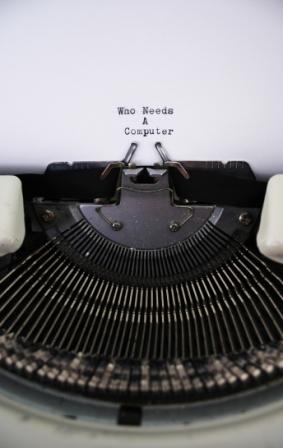 al for me. I check email or catch up on Twitter until I get sleepy again. Sometimes, on Twitter, I'll find another night owl or someone on the other side of the world willing to chat.
When I moved the mouse to wake up the computer, I was greeted a black screen with white writing. For those of you have seen this type of display, you know the terror starts now. I tried everything I knew to revive or restore the "sick" machine … to no avail. I went back to bed for a few hours hoping it would "miraculously" heal. No such luck.
Grabbing the yellow pages I started dialing. I left a message at the first shop (has YET to call me back) and then called a shop advertising 24/7 service. I dialed 910.367.2365. After the second ring, a cheery "Paradox Computer Services" greeted me. It was 7:30 a.m., Monday morning, Christmas week. From that point on, Gary Webb, one of the Paradox owners went above and beyond in getting my computer back operational. Over the course of the week we upgraded to Windows 7 and Office 2007. We installed a higher level anti-virus program and added an external hard drive. We also downloaded infinite files from my off-site backup storage (THANK GOODNESS FOR Carbonite!!)  We tweaked, restored, reset and reloaded all week. He met me and returned my computer on Christmas Day for heaven's sake!
I'd had computer troubles back in September and put in place some stop gaps then. I thought I had it under control. Boy was I wrong! Downloading one file from Carbonite … no big deal; restoring an entire hard drive … BIG deal. I'm on a high-speed satellite, not broad band or DSL connection, what should have taken less than 24 hours took 3 days to download. At one point, I did "something" and had to restart the backup making it take even longer. Ugh.
On top of the download adventure, we'd make a change, I'd take the computer home, hook it up and something else, unexpected would happen. I'd call Gary, and we'd arrange to meet at a point between our two locations (I live 30 miles from town, 60 mile minimum round trip). I went to Wilmington five out of six days last week. On the fourth trip, Gary, handed me a $25 gas card to help defray the cost of schlepping the computer back and forth. We're still not sure the cause or reason for the ghosts in my machine, but it was a challenge. I wasn't giving up. Neither was he.
Every day last week I planned around getting my computer back and what I could do in the interim. I rearranged my schedule so I could prepare for Christmas, meet an urgent client deadline, get my computer repaired, remain current with emails and take care of other client needs. Oh, and did I tell you, at the same time the computer crashed, I noticed my phone wouldn't send emails from my business account? I was in technological purgatory. Gmail worked on my phone, but the account I'd need the most for responding was down, and nothing would fix it … expect a master restore. I wasn't willing to do that until I could get my computer back up since I wasn't sure I might loose/had already lost. Ironically, that's what the computer needed too.
It was a full week of, "OK … this isn't working. What can I get done today in spite of that?" and then "dropping back and punting." I couldn't sit down and sulk. (Believe me. I wanted to.) I had to keep moving. Events of this past week give a nice parallel to the job search. I had a plan. I'd prepared, yet the unexpected happened and I had to scramble.
We prepare. We plot a course. We envision the outcome. Then we remember, "Life is what happens while you're making other plans". It's good to have a plan.  It's better to have three or four (or more) to keep you on your feet and moving forward. I managed to get it all done. I learned A LOT about adapting and redundancy in planning for the worst. With plans B, C and D firmly in place, I "think" I'm ready for anything now. This may never happen again. Or worse may happen. Who knows? At least now, I have a few different paths established for recovery. You can do the same in your search. Map out multiple if/then scenarios. Hopefully, you won't have to do everything you planned before you attain job search success, but with several things in place you'll be able to exhale instead of gasping the next time things don't go your way.

Link to this page

Link to this page
Copy the code below to your web site.